Gumeracha Medieval Fair 2013
Yesterday I was very excited to be able to go along to the Medieval Fair held every year at Federation Park in Gumeracha. I have been the last few years and it's always a really fun, interesting and entertaining. Lots and lots of people dress up for the fair, wearing all sorts of costumes including knights, archers, maidens and a variety of other costumes. This year was extra special for me as I had my very own Tudor Gown to wear with a matching French Hood! Of course not quite medieval, I still thought it would be lots of fun and needless to say that I was counting down the days that I could wear this beautiful gown!
My Tudor Gown laid out in the different pieces to be put on.
My little girl and I all ready for the fair!
There are lots and lots of different things to do at the fair. There are Knights and Viking warriors battling for the honour of their clans and ladies. There are practice fights, drills and other fun entertainments with swords, maces and other very deadly weapons!
There was a joust which was lots of fun (and a little nerve wracking I have to admit!) As well as skills at arms displays upon horseback which required the contestants upon their horses to slot small rings upon the tips of their lances as they were riding down the field – lots of skill required for this!
There was a falconry display, which I was very disappointed to miss as it would have been lovely to see them in full flight. But I was able to get my photo taken with a falcon which was very exciting. The bird was just beautiful, she had huge, incredibly sharp claws and I for one was thankful to be wearing a glove! She also had a very sharp beak and her feathers appeared soft and she was just beautiful.
·
Myself and the beautiful Falcon (photo was taken my Adelaide Bird Removal - www.birdremoval.com.au)
There was also an entire section laid out called the Artisan's village in which there were different stalls and tents set up which demonstrated what everyday life would have been like for common people during the Medieval times. This was fascinating as there were people making bread, sewing, doing metal work, wood carving and even two men making a stone wall! Truly fascinating!
There was also a section set aside for archery and that was fascinating and very entertaining to watch. There were "pretend" animals set out all over the field as well as targets to aim at. In addition to this there was a large foam goat on a pulley which was stretched out across the field. One man would let it go and it would zip across the field and the archers had to try and hit it. This was my favourite thing to watch as you got the chance to really watch and admire the archers as they moved along with the foam goat as they tried to hit it. Several of the archers did really well and I found myself clapping at their achievements! I think I would have very much liked to watch archery in the Tudor times (as long as it didn't involve live animals!)
One of the stalls within this area was selling traditionally carved and created Tankards which you could actually drink out of! Well of course I just had to have one, and my husband got one for himself also!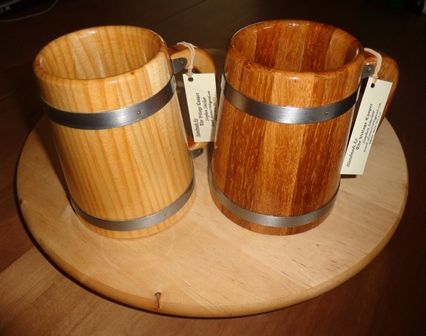 Mine is made of pine on the left and my husbands is made of white oak on the right.
At the top of the fair was Merchants Lane which sold a variety of medieval style or related products. There were all sorts of things from costumes, material, swords, shields, and blades to medieval related books, jewellery, prints and a variety of other medieval related items. I managed to pick up a book entitled "Tudor Knight" which looks at the weaponry and armour that was worn during the Tudor times (for both men and their horses!)
Tudor Knight by Christopher Gravett
My husband picked up the most amazing dagger. It is actually a "Knight Dagger" which apparently noble men and Knights would have worn as an extra blade in addition to their sword. It's just beautiful and feels fantastic to hold!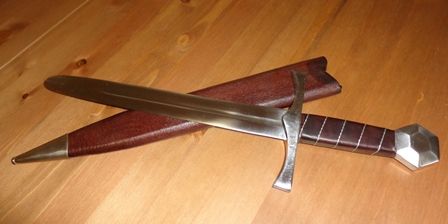 There was also a children's area which had games and face painting and sold toys and medieval clothing for children. My daughter had lots of fun playing and exploring that area – and my husband even picked up a beautiful castle which was carved out of a piece of wood!
I think the highlight of my day was getting to meet and talk with Lady Eleanor again! I met Lady Eleanor last year and she just blew me away with the detail of her costume which was based off the dress worn by Katherine Parr in her famous portrait. She was a huge inspiration to get my own Tudor gown as she just looked so beautiful in hers.
I was so excited to see Lady Eleanor again that I just bounded over to her and of course asked for a photo (I must have looked a sight in my own Tudor gown!) Lady Eleanor has been making her own Tudor gowns for years and she is incredibly talented. She makes them by hand, using patterns that she has gathered. Everything from the hooped skirt to the corset is made by herself. Her attention to detail is just exquisite, from the detail in the beads upon her sleeves to the neckline of her gown. She is an incredibly talented and skilled woman.
I was so excited to talk a little with Lady Eleanor and get some advice on how to store and care for my own Tudor gown.
(Lady Eleanor – if you do ever read this I would absolutely LOVE to talk to you further about your Tudor gowns and how you make them. If you could possibly e-mail me at SBryson44@Hotmail.com that would make my day!)
On the topic of my Tudor gown I lost count of the number of people that stopped me and asked to have a photo with me! I wasn't even part of the fair, just someone attending in costume, as so many others were, but for some reason countless people wanted to have their photo taken with me. It was very embarrassing but also lots of fun. I also had lots of compliments on the dress, so many people telling me how beautiful both I and the dress looked. Of course I couldn't stop blushing!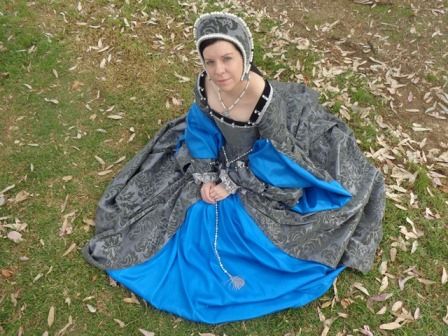 Me in my Tudor Gown.
Overall I had a fantastic day. As like last year I had so much fun, saw some amazing things and bought way too much! Although slightly before the reign of Henry VIII, the medieval period is still fascinating and enthralling with its depth of history and detail. I had a wonderful day and felt just fantastic wearing my Tudor gown!