Book List #4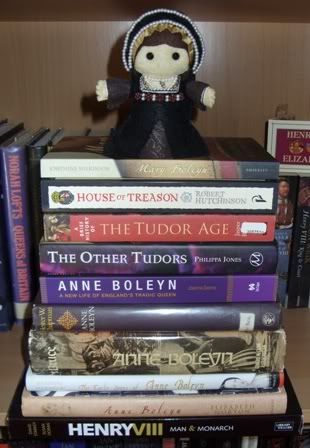 Anne Boleyn A Biography by Marie Louise Bruce
Was she a tragic heroine of Henry's "monstrous great whote"? Anne Boleyn, the seductress who changed the course of British history, comes vibrantly to life in this marvellously entertaining, opulently illustrated biography – a fascinating evocation of a personality at once wily and whimsical, irresistibly charming and infuriatingly indiscreet, cunning, yet curiously naïve.
Tutered in ambition by her father, schooled in the suble art of courtly love at the brilliant but profligate French court, both inspired and repelled by her sister's celebrated liaison with the King, whose towering, spectacular presence she had only once glimpsed, Anne Boleyn arrived in London an accomplished, fashionably French and exceedingly impressionable girl of fifteen. Her impact was immediate and prophetic, as she made her triumphant debut in a royal entertainment, an allegory in which Henry portrayed "Ardent Desire," a role he was soon to assume in earnest.
Perusing her with lavish gifts and torrid love letters in French, Henry was overwhelemed by a passion that Anne enflamed with her artful attentions to his infatuated courtiers. So began the King's "Great Matter," the long arduous campaign for his divorce that imperilled Henry's kingdom – and his soul – and resulted, at great personal cost, in Anne's accession. A brilliant, but bitterly brief, victory – and then, the fall… stunning, swift and cruel, equally as dramatic as her dazzling rise to power.
A superbly crafted and objective portrait of a woman who often reviled than charitably remembered, this eloquent biography explores the personal motivations and political forces that brought Anne Boleyn to the throne and presents startling new evidence about the role of sex in her career. Retelling a story of consistent fascination from a wholly new perspective, it reveals a finely drawn likeness of Anne Boleyn – an ambitious, resolute but tragically short sighted girl who achieved her goal only to become prisoner of the very qualities that had made her queen.
Anne Boleyn by Hester W. Chapman
Following her highly praised biography of Queen Caroline Matilda of Denmark, Hester Chapman in her new book turns to the sixteenth century to portray the life of the most controversial of Henry VIII's wives – the enigmatic Anne Boleyn.
Anne came to Court at the age of eighteen, as a lady-in-waiting to Queen Katherine. She fell in love with a young nobleman only to have her hopes of marriage cruelly shattered by Cardinal Wolsey and her lover's father. No one, not even Anne herself, imagined the dizzy heights to which she would ascent, although her vivid looks and strange charm were already attracting the King's eye and were eventually to retain his lover for some nine years. Henry would shake the very foundations of his kingdom to make her Queen, yet eventually he discarded her for failing to produce a male heir.
Against the rich background of the Court, Hester Chapman gives us a shrewd analysis of the great figures of the age – Wolsey, Norfolk, Cromwell, Katherine of Aragon, and Henry and Anne themselves. Included is a compelling study of Henry's love-letters to Anne, which do much to reveal the true nature of their extraordinarily complex relationship. Rejecting as quite false the familiar image of Henry as an insatiable lecher, the author brings fully to light evidence supporting the view, only hinted at by a few historians, of the King as a mysterious man, easily persuaded of the truth of his own convictions, who nevertheless remained sexually cold and himself kept Anne from his bed for six years. Anne, eager for marriage and the role of Queen, may be thought of as Henry VIII's Dark Lady. Accused of incest, adultery and high treason, she perished. But was she guilty?
Anne Boleyn A New Life of England's Tragic Queen by Doanna Denny
No English queen has enjoyed such notoriety, and none has been so persistently vilified. In this powerful new biography, Joanna Denny reveals the truth about Anne Boleyn, presenting a picture of the woman – highly literate, accomplished, and a devout defender of her Protestant faith – that differs radically from the unsavoury and unflattering accounts that have come down through history. A tragedy set in motion by her allure and her attraction of England's violent and paranoid king, Anne's life found her trapped in the vicious politics of the Tudor court, confined to a path that would lead her to execution.
Plunging into the intrigue, romance, and danger at the heart of King Henry VIII's court, Anne Boleyn is a compelling account of the turbulent times that would change England forever, and a passionate portrait that will ultimately alter our perception of this much-maligned queen.
House of Treason The Rise & Fall of a Tudor Dynasty by Robert Hutchinson
This history of the Howard family—the Dukes of Norfolk—is marked by treason, beheadings, and incarceration—a dynasty whose pride and ambition secured only their downfall. The wealthiest and most powerful aristocrats in Tudor England—regarding themselves as the true power behind the throne—they were certainly extraordinarily influential, with two Howard women marrying Henry VIII—Anne Boleyn and the 15-year-old Catherine Howard. But in the treacherous world of the Tudor court no faction could afford to rest on its laurels. The Howards consolidated their power with an awesome web of schemes and conspiracies, but even they could not always hold their enemies at bay.
This was a family whose history is marked by treason, beheadings and incarceration – a dynasty whose pride and ambition secured only their downfall.
The Other Tudors Henry VIII's Mistresses and Bastards by Phillipa Jones
Everybody thinks they know the tale of King Henry VIII's wives: divorced, beheaded died; divorced, beheaded, survived. But behind this familiar story, lies a far more complex truth. This book brings together for the first time the 'other women' of King Henry VIII. When he first came to the throne, Henry VIII's mistresses were dalliances, the playthings of a powerful and handsome man. However, when Anne Boleyn disrupted that pattern, ousting Katherine of Aragon to become Henry's wife, a new status quo was established. Suddenly noble families fought to entangle the king with their sisters and daughters; if wives were to be beheaded or divorced so easily, the mistress of the king was in an enviable position. While Henry VIII has frequently been portrayed as a womanizer, author Philippa Jones reveals a new side to his character. Although he was never faithful, Jones sees him as a serial monogamist: he spent his life in search of a perfect woman, a search that continued even as he lay dying when he was considering divorcing Catherine Parr thus leaving him free to marry Katherine d'Eresby. Yet he loved each of his wives and mistresses, he was a romantic who loved being in love, but none of these loves ever fully satisfied him; all were ultimately replaced. "The Other Tudors" examines the extraordinary untold tales of the women who Henry loved but never married, the mistresses who became queens and of his many children, both acknowledged and unacknowledged. Philippa Jones takes us deep into the web of secrets and deception at the Tudor Court and explores another, often unmentioned, side to the King's character.
Anne Boleyn In Her Own Words & the Words of Those Who Knew Her by Elizabeth Norton
Anne Boleyn, the second wife of Henry VIII, caused comment wherever she went. Through the chronicles, letters and dispatches written by both Anne and her contemporaries, it is possible to see her life and thoughts as she struggled to become queen of England, ultimately ending her life on the scaffold. Only through the original sources is it truly possible to evaluate the real Anne.
George Wyatt's Life of Queen Anne provided the first detailed account of the queen, based on the testimony of those that knew her. The poems of Anne's supposed lover, Thomas Wyatt, as well as accounts such as Cavendish's Life of Wolsey also give details of her life, as do the hostile dispatches of the Imperial Ambassador, Eustace Chapuys and the later works of the slanderous Nicholas Slander and Nicholas Harpsfield. Henry VIII's love letters and many of Anne's own letters survive, providing an insight into the love affair that changed England forever. The reports on Anne's conduct in the Tower of London show the queen's shock and despair when she realized that she was to die. Collected together for the first time, these and other sources make it possible to view the real Anne Boleyn through her own words and those of her contemporaries.
Life in Tudor England by The Pitkin Guide
A magnificent addition to our delightful historical series, Life in Tudor England sparkles with colourful illustrations and a lively text. Discover what life was really like during more than 100 years of Tudor rule in this pivotal period of English history: how industry became an alternative to agriculture as a means of employment; the lavish fads, fashions and fun enjoyed by the rich; the hardships suffered by the poor as inflation spiralled. All is revealed in this enticing taste of days gone by.
A Brief History of The Tudor Age by Jasper Ridley
Beginning with the arrival of Henry Tudor and his army at Milford in 1485 to depose Richard III, and ending with the death of the great Queen Elizabeth I in 1603, this incisive and informative brief history provides a vivid account of England's most eventful and contradictory age. Its presentation of the life both in the burgeoning capital of London and in the countryside includes 16 pages of full-color and black-and-white photographs, as well as discussion of the costumes of the period, modes of travel, food and medicine, sports and pastimes, and the amazing explosion of English drama that would make the name of William Shakespeare a household word for all time. Nor does this volume overlook the stultifying narrowness of peasant life, the harsh treatment of heretics and traitors, the intrigues and machinations at the court, and the miseries of the plague. In all, A Brief History of the Tudor Age paints an astonishing panorama of an England of great beauty and violence, of splendor and squalor, of achievement and despair.
Man & Monarch Henry VIII by David Starkey and Susan Doran
2009 marks 500 years since Henry VIII took the throne and to mark this important anniversary, historian and broadcaster David Starkey has guest curated a major exhibition at the British Library.
This catalogue of the exhibition examines the extraordinary transformation – personal and political, intellectual and religious, literary, aesthetic and linguistic – that took place in Henry's reign. It does so using the astonishingly rich holdings of the British Library, for at the heart of the Library's collection is Henry's own library: the books that he chose, read and annotated, and the documents and letters that he wrote. These are accompanied by descriptions of items loaned by other museums and collections, including portraits, tapestry, nautical instruments and sculpture, to create a book which is visually stunning and offers a new insight into this Tudor monarch who continues to cast a spell over the public imagination 500 years after his accession.
Henry is not only England's best-known king, with his sex wives, his girth and his bloodthirstiness. He is also one of England's most important rulers. When he came to the throne, Henry was the Pious Prince who ruled an England at the heart of Catholic Europe; when he died, he was the great Schismatic, who had created a national Church and insular, xenophobic politics that shaped the development of England for the next half a millennium.
This handsomely produced catalogue includes colour illustrations and descriptions of all the exhibits as well as an introduction by David Starkey and essays by leading scholars – James Carley, Susan Doran, Steven Funn, Ralph Houlbrooke, Eric Ives, Diarmaid MacCulloch, Peter Marshall, Richard Tex and Glenn Richardson.
The Early Loves of Anne Boleyn by Josephine Wilkinson
Anne Boleyn is perhaps the most engaging of Henry VIII's Queens. For her he would divorce his wife of some twenty years standing, he would take on the might of the Roman Church and the Holy Roman Empire; he would even alienate his own people in order to win her favor and, eventually, her hand.
But before Henry came into her life Anne Boleyn had already wandered down love's winding path. She had learned its twists and turns during her youth spent at the courts of the Low Countries and France, where she had been sent as a result of her scandalous behavior with her father's butler and chaplain. Here her education had been directed by two of the strongest women of the age - and one of the weakest.
Returning to England she was courted by three different suitors in three very different circumstances. The first was James Butler, with whom an arranged marriage was designed to settle a family dispute over the earldom of Ormond. Anne then captured the heart of Henry Percy, whose genuine love for her was reciprocated and would have lead to Anne becoming countess of Northumberland had the couple not been cruelly torn apart in the interests of politics and worldly ambition. Lastly, Thomas Wyatt, the dreamy young poet and ambassador who was captivated by Anne but who stepped aside when he saw that he had a rival: none other than the great King Henry VIII himself.
Mary Boleyn by Josephine Wilkinson
Mary Boleyn, 'the infamous other Boleyn girl', began her court career as the mistress of the king of France. Franois I of France would later call her 'The Great Prostitute' and the slur stuck.
The bete-noir of her family, Mary was married her off to a minor courtier but it was not long before she caught the eye of Henry VIII and a new affair began. Although a bright star at Henry's court, she was soon eclipsed by her highly spirited and more accomplished sister, Anne, who rapidly took her place in the king's heart. However, the ups and downs of the Boleyn sisters were far from over. Mary would emerge the sole survivor of a family torn apart by lust and ambition, and it is in Mary and her progeny that the Boleyn legacy rests.